Good customer experience leaves people feeling heard and appreciated; it minimizes friction, maximizes efficiency and maintains a human element. We asked 15,000 consumers in 12 countries what it takes to deliver the kind of experience that keeps them satisfied and coming back.
Bad experiences are driving customers away—faster than you think
If you think you'll have plenty of time to get it right because you're a beloved brand, think again. Imagine losing one-quarter of your customers in a single day. For good. Because that's exactly what could happen after just one bad customer experience. In the U.S., even when people love a company or product, 59% will walk away after several bad experiences, 17% after just one bad experience.
32% of all customers would stop doing business with a brand they loved after one bad experience. In Latin America, 49% say they'd walk away from a brand after one bad experience.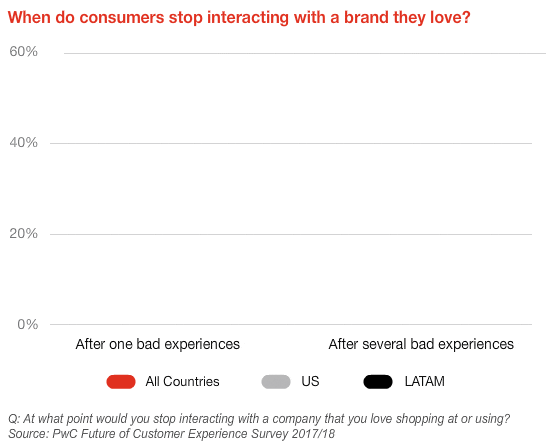 Excellent customer experience starts with superior employee experience
Human interaction matters now—and 82% of U.S. and 74% of non-U.S. consumers want more of it in the future. That makes it crucial that the technology supporting human interaction is unobtrusive and works seamlessly across platforms. Today, 59% of all consumers feel companies have lost touch with the human element of customer experience. And there's a mismatch between customer expectations and how employees deliver: only 38% of U.S. consumers say the employees they interact with understand their needs; 46% of consumers outside the U.S. say the same.
Automated solutions should "learn" from human interactions so those experiences also improve. This shift allows your employees to be more engaged when they're needed, provide better service and get necessary support from technology—as part of the seamless experience. This will require a change in how companies measure customer service performance. A focus on innovation, and equipping employees with technology and the information they need to best serve consumers could help close this gap. So could incentivizing employees to provide a good experience, boosting relevant training for employees and fostering a corporate culture of empowerment.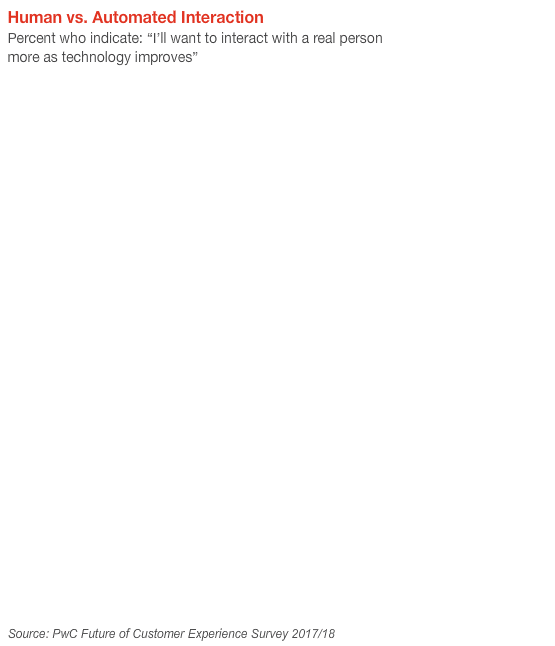 Gen Z isn't all that different—but their definitions might be
What matters most to all generations surveyed holds true for Gen Z, too. But what passes for speed and knowledge to Gen Z might be different. Instant is expected. Convenience—seamless transition from tablet to smartphone to desktop to human—is a baseline expectation.
Gen Z is impressionable right now, and is in the process of forming its loyalties to brands. 40% of Gen Zers (vs. 24% for everyone surveyed) feel more loyal to brands now than last year, so there are some nuances worth understanding if you're trying to appeal to the preteens, teens and young adults that were born in the mid- to late- 1990s.
And just like other age groups, when Gen Z customers feel appreciated, they are more likely to recommend or endorse a brand on social media, subscribe to a brand's newsletter or sign up for promotions and make repeat purchases.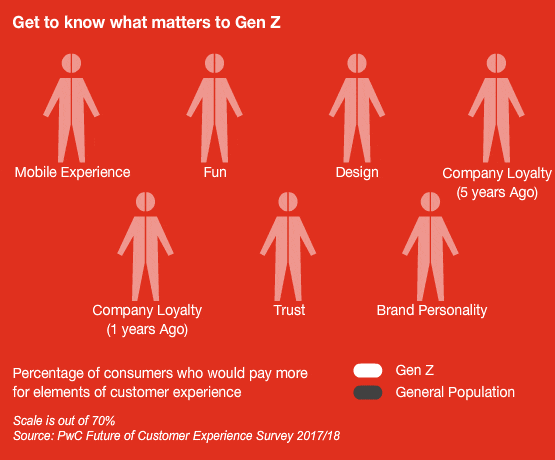 If experience isn't your strategy, you're doing it wrong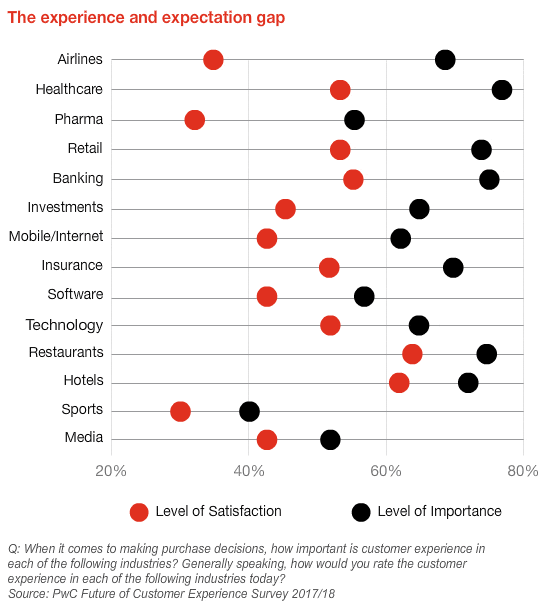 Some metrics may be difficult to measure because
they don't have access to data and/or
it takes too long to collect
External data can be used. 3 categories of companies that gather data
Companies that collect data (e.g. Comscore, Nielsen)
Companies that conduct surveys (e.g. Pew)
Academic papers
The above can help you benchmark your own metrics against the industry
Internal data can be used as well. You could do
Retrospective analysis: Look at historic data to look at changes and see the evaluation
Surveys and User experience research: This helps you develop ideas on what you want to research
The problem with these studies is that they show you correlation, and not causation, compared to running an experiment.
Talk to your colleagues about what ideas they think make sense for metrics.
You can gather additional data by
User Experience Research (UER) – high depth on a few users. This is good for brainstorming. You can also use special equipment in a UER (e.g. eye movement camera) that you cannot use on your website. You may want to validate the results using retrospective analysis
Focus groups: Medium depth and # of participants. Get feedback on hypotheticals, but may run into the issue of groupthink
Surveys have low depth but high # of participants: Useful for metrics you cannot directly measure. Can't directly compare with other metrics since population for survey and internal metrics may be different.
Comments & Responses